Blicci 2006 News

December 28 - Happy New Year to all of our friends

Another year has passed, and may we take this opportunity to thank all of you for your support and friendship, to those of you we met during the year, and also those with whom we just had a correspondence. We appreciate it all and look forward to seeing you and keeping in touch in 2007.

---

December, Sweden - Bertil is # 2 phalene male of the year

After the year's last show in Sweden, which we didn't attend, the year's rankings are now published and we are pleased to announce that Bertil is #2 phalene male of the year 2006. Our sincere congratulations to Sweden's No. 1 male, SCH DKCH NCH FINCH NORDCH INTCH Vittoria's Winsor, and to the rest of the dogs on the lists. It has been a pleasure to show our dogs in Sweden. Chip went #5 of papillon males, with only 4 shows entered.

---

December 2, USA - Congratulations to Lina's brother

Lamonia's Evelina's litter brother, Lamonia's Ellington, finished his AKC championship, at just one year of age, at a show in Worcester County Kennel Club, Fitchburg, Massachusetts. Congratulations to "Boomer"'s owner Mona Johnson and his breeder Inga-Lill Stener.

---

November, Denmark - Bertil is # 1 phalene male of the year

The final Top 10 rankings 2006 for papillons and phalenes in Denmark are published, and we are proud to announce:

---

October / November, Denmark: Two phalene puppies exported

We are pleased to announce our two phalene exports:

Blicci's Diamonds R Forever
exported to Anne-Lise Helleren
& Vidar Skjerahaug, Norway

Blicci's Done Is Done
exported to Rik Verhelst-Pattyn, Belgium

Parents of the puppies are EUUV05 DKCH SCH KLBV05 KBHV06 KLBV06 Blicci's Blue Bayou and DKCH Crown's Best Inga Of Nikolas & Kira. We wish them the best of luck in their new homes!

---

November, Denmark: Chip is Danish Kennel Club Breed Winner - the first Danish bred one in history

| | |
| --- | --- |
| Chip is now officially Danish kennel club breed winner 2006 as the top winning papillon at the Danish kennel club shows of the year. It's a most attractive title and we are very proud. This competition has been held since the year 2002 and quite surprisingly, there has not been a Danish bred DKK papillon breed winner till now! Previous winners are: 2002: Ch Pepejas Master Of Magic (Swedish), 2003: Ch Lamonia's Botvid (Swedish), 2004: Ch Silenzio's Robin Hood (Swedish - Chip's father), 2005: Ch Denemore Noble Perfection (Irish). We are pleased and honoured to see Chip in this company of glorious dogs. Photo: Wiegaarden | |

---

October 8, Holland: Toddy is Dutch Junior Champion!

His first title obtained after less than 2½ months in Holland and entered in just 4 shows: Blicci's Chip Shot is making his owner Anja Wielhouver - and his breeders here at Blicci's! - very proud and pleased. Well done, Anja, showing our gorgeous little boy to perfection! This weekend's judges were breed specialists Mr. Hilverda on Saturday and Mrs. De Vos on Sunday, where the Papillon and Phaleneclub Holland celebrated its 30 years anniversary.
---

October 7, Denmark: Bertil is BOB again

Papillon-Klubben's specialty show in Køge, judged by Hans Boelars from Holland, had a very nice entry of 20 phalenes and 45 papillons. Bertil went BOB phalene for the third time in succession this autumn, and BIS-2, and Chip went Best male 3 and was at this show awarded his Club Champion certificate and rosette by our club's president, Mr. Lars Kalkerup. And congratulations to BOB papillon and BIS-1, SCH DKCH NCH KBHV04 NORDCH KBHV05 DKKV05 SV05 FINCH Denemore Noble Perfection, owned by Margot Hörnqvist.

---

October 1, Denmark: Welcome to Lamonia's Evelina!

We are pleased to announce the arrival of our new import, a very beautiful and elegant 10 months old female from one of Sweden's top breeders. Thank you so much, Inga-Lill Stener for letting us have "Lina"!

Lina has a super pedigree: MultiCH Denemore Noble Perfection - SCH FINCH Lamonia's Sirikit.

---

September 24, USA: Star is MACH2

Andrea writes:

"Today at the Brookhaven Kennel Club agility trial near me on Long Island, Star completed the requirements to gain her Master Agility Champion 2 title (MACH2). She came in 2nd place in both her runs behind her MACH son "Astro":) Star is the first dog to get a MACH on Long Island that is from Long Island, the first dog from Long Island to obtain a MACH 2, but most importantly I believe the first imported Pap to be a CH MACH 2!
This was her 1st AKC since last April she took time off to be a mom for the 3rd time :)"

From here at Blicci:.... Well done, Andrea and Star, and our sincere congratulations!

---

September 16, Denmark - Copenhagen Winner International Show


Phalene winners. BOB: EUV95 DKCH SCH KLBV05 KBHV06 Blicci's Blue Bayou
BOS: DKCH SCH NCH NORDCH DKKV05 INTCH KBHV06 Kecil Keeping Up Appearances


Best papillon puppy: Blicci's Dreams Come True - "Debbie", 8 months

What a nice day! Bertil was Best of Breed in super tough competition and got the attractive title Copenhagen Winner 2006. Our little papillon girl Debbie, Blicci's Dreams Come True, was Best Puppy in breed. Thanks to Mr. Ove Germundsson from Sweden, a wonderful judge, knowledgeable, gentle with the dogs, truly interested in our breed.

On the same day, in Zwolle in Holland, Blicci's Chip Shot got his first Youth CAC and went Best Young Dog under judge Mrs. Klotz from Germany. Congratulations and well done to his owner, Anja Wielhouwer!

---

September 9, Sweden - Bertil is Best of Breed

One of our favourite shows to attend is the

Sydskånska Kennelklubben's show at

the

Sofiero

castle in

Sweden

.

,

held in

the

beautiful palace garden with a view to the sea from the show rings

. This year it was an international show with a total of 4605 entered dogs and we had the pleasure to see our

EUUV05 DKCH SCH KLBV05

Blicci's Blue Bayou

take BOB phalenes (25 phalenes entered). BOS was

SCH Vittoria's Walkya

, owned by Inger Fjugstad. Thanks to judge Mr. Leif Lehmann Jørgensen from Denmark.

---

September 2, Sweden - Jane judging Specialty Show in Stockholm

Jane had the great pleasure to be invited to judge the Papillon-Ringen's unofficial specialty show at the Tyresö castle just outside Stockholm. A nice entry of 55 papillons (and one phalene puppy!) made it a most interesting day. Jane is here pictured with her BOB (also Best Veteran), the adorable 7-year old female Swedish, American Champion, Swedish Winner 2000 Caspian's Blue Print, bred and owned by Anette Svensson, and BOS, a new sparkling star, the 10-months old male Lamonia's Elliot, bred and owned by Inga-Lill Stener. Congratulations to all winners of this show!

---

August 27, Norway - A nice win for Chip's son

Inkies Going To Be A Troublemaker - "Alex" (DKCH SCH FINCH NORDCH INTCH Blicci's U Are My Universe - DKCH Inkies Yes She's Tomorrows Hope) went BIS-3 Puppy out of 32 puppies of all breeds at a Match Show on August 27 in Stavanger, Norway. Alex is bred by Kitty Sjong and owned by Margrethe Lundegaard, Norway. Congratulations here from Blicci!

---

July 30, Denmark - Toddy leaving for Holland

Today Blicci's Chip Shot travelled to Holland with his new owner Anja Wielhouwer, kennel van Fleur's Vlinderke. Just a few hours before, he got his first CAC at the Danish Kennel Club international show in Brøndby. The judge was Mr. Stefan Sinko from Slovenia. Visit Toddy's page on our website and see a video of him gaiting! We wish Toddy the best of luck in his new country.

---

July 28, Sweden - Bertil is now a father

We are proud to announce Bertil's first litter, 4 sound and nicely marked phalene girls, born today! The lucky breeder is Mrs. Ingegerd Hallberg, Canifelis kennel in Sweden and the happy mother is the adorable SCH DKCH NCH NORDCH KBHV05 KLBV05 Canifelis Xidra, top winning phalene female in Sweden and Denmark 2005. We wish the small ones a bright future!

---

July 8, Sweden - Bertil is now Swedish champion

In Sweden, the minimum age for championship is two years, and Bertil travelled a week after his 2 years birthday to the National show in Tvååker, Sweden and obtained his Swedish championship at his first attempt. Thank you to judge Mr. Michael Forte from Ireland!

---
The judge holding Marie and Jane with Bertil
Photos: Anker Soelberg

Jane with Chip

June 17, Denmark - Two BOB's and a BOS!

It was a quite fantastic day at the Danish Kennel Club International show in Aalborg in the North of the country. Jane travelled with Chip, Toddy, Bertil and Marie and had hands full during the show day. Little Toddy showed very nicely for his debut in the official classes. He won his class with "most promising" ribbon. Chip went Best of Breed, and so did Bertil - that's our good boys, LOL! And then Marie... in spite of a not perfect ring routine yet she took her second CAC and went Best of Opposite to Bertil. Way to go, silly little girl! The judge, Mr. Kim Bay had so much praise for our dogs. Thank you! Also thanks to my fellow exhibitors for help at the ringside and to get pictures taken.

---

June 4, Sweden - Bertil takes a Group 5 in Österbybruk

DKCH EUUV05 KLBV05 Blicci's Blue Bayou had another very nice win in Sweden. This time at the National all breed show in Österbybruk. The breed was judged by Mr. Don Mahoney from Australia (Mondelise Papillons & Phalenes). Our papillon boy Chip went second best male in breed, and Bertil was BOB and Group 5 in the very large companion dog group. A long way to travel but certainly worth it!

---

| | | |
| --- | --- | --- |
| | | |
| Toddy: Daddy, why is it raining pellets? | Debbie: Daddy, are you serious about me going in again? | |

May 25, Danmark - Match show in hailstorm and rain

We attended the Ascension day match show at the Bakken as usual and had a nice day - at least until half into the finals, when the weather changed for the worse. Blicci's Color My Dreams (Marie) went best phalene, Blicci's Chip Shot (Toddy) went best puppy, and little Blicci's Dreams Come True (Debbie), who was at her very first show, went best baby puppy and thereafter awarded best papillon! She went into the final about best baby puppy in show and Toddy in best puppy in show, but just as Sven and Toddy was in the ring, a hailstorm attacked and the two of them got quite wet in a couple of minutes' time! In spite of this, Toddy got picked out and placed No. 5 in this final. After this, we decided to drop the final of best dog in show and go home to enjoy a warm cup of tea!

---

May 21, Sweden - Bertil goes Best in Specialty Show

DKCH EUUV05 KLBV05 Blicci's Blue Bayou had a nice win at the Swedish Phalene Breed Club's yearly specialty in Hässleholm, going BOB and BIS. It was the first time we visited this show and we enjoyed the nice atmosphere. Thank you for a lovely day! The judge was Mr. Torbörn Skaar from Sweden. Moreover, we had the great pleasure to see another Danish bred phalene go BOS, that was NORDJV-03 NORDCH Thygesminde's Julia, offspring of DKCH DCHKLB DCHVDH KLBCH SCH KLBV02 KLBV03 KBHV04 Blicci's Nougat Wonder. Julia is owned by Marita Lindfors and Annelise Pedersen.

---

May 9, Denmark - Tribute to a very special lady

Hopalong Nina Ricci, mother of 7 champions, celebrates her 10th anniversery. Nina lives in a wonderful home with Mrs. Irene Christensen. Irene sent us this lovely photo of Nina enjoying her birthday present: A "princess cushion". Happy birthday, Nina!

---

May 6, Denmark - Danish Kennel Club International Show in Hillerød

Papillons

: Our 8 months old boy Blicci's Chip Shot, aka Toddy, went Best Puppy in breed. We look forward to showing this super elegant young dog in the official classes this summer.

Phalenes

: Shown for the very first time, our 9 months old girl Blicci's Color My Dreams, aka Marie, took her first CAC and went 3rd best phalene bitch in breed. Marie is a real Miss Dynamite!

---

April 1, Denmark: Show updates

Chip went BOB and Group 3rd at the DKK regional show in Hedensted, Denmark on April 1. Breed judge was Mrs. Marit Sunde, Norway, and the group judge was Mrs. Hanne Laine Jensen, Denmark. It's the third time in succession that Chip is BOB and group placed at a Danish Kennel Club show. Quite an accomplishment!

Bertil went BOB at the Club show on March 25. The judge was Mrs. Nutrimova from Lithuania.

---

March 19, Spain: New International champion and a Group One!

"Angel", French champion Blicci's After Eight, made her owner Brigitte Cardoletti very proud by going Best of Breed with CACIB at the international show in Torrelavega, Spain, under judge Mr. Jose Vidal from Venezuela. Angel is now International champion. As if this wasn't enough, she went on to take a sensational Group One! Well done, Brigitte and congratulations!

---

March 18, Sweden: Bertil and Chip win at Malmö International show

Bertil took his first CAC, CACIB and BOB in Sweden under Ms. P.C. Zwaartman-Pinster from Holland, and Chip went best male with CACIB and BOS under Mr. Gunnar Nymann from Denmark. Thanks to both!

---

March 11, England: Magic Moments at Crufts

We travelled to England to show a dog at Crufts for the very first time, and the outcome was more than we had ever expected in the view of the papillon entry being as huge as 242. Our little Chip, DKCH SCH FINCH NORDCH INTCH Blicci's U Are My Universe, who sparkled along with the flashlights around the ring, went 2nd in Open class and thereafter sealed his name in the Crufts history book by taking Reserve Best Dog. Thank you Mr. Malcolm Fowler for this wonderful win!

---

February 19, USA: Blicci's make the double!

At the First Company Governor's Foot Guard Athletic Association's show in Hartford, Connecticut (32 entries), two Blicci paps went BOB and BOS. BOB was CH Blicci's Upside Down U Turn Me (to the right) and BOS was CH MACH Blicci's Sandra Dee (to the left). The two are half sieblings, offspring of our wonderful girl Nina Ricci. She's also Chip's mother, of course. The judge is Ms. Marlene M. Dunbury.

---

February 18, Denmark: Bertil goes Best male and Chip is BOB and Group4th

At the Danish Kennel Club's first international show of the year, our two boys made us very proud. Judge for phalenes and papillons was Mr. Giuseppe Alessandra from Italy.
Phalenes: Shown for the first time in the champion class, Bertil went best male and BOS. BOB was Lise Verburg's dainly little lady DKCH SCH NCH NORDCH DKKV05 Kecil Keeping Up Appearances.

See video clip of the two phalenes gaiting

Papillons: Chip continued his winning ways from 2005's last international DKK show, going BOB and moreover group placed again! BOS was NCH SCH DKCH NORDCH Marbijo's Isabella owned by Anne-Lise Helleren from Norway. The Group 4th in huge competition under judge Mrs. Marie Petersen made this day very special for us.

---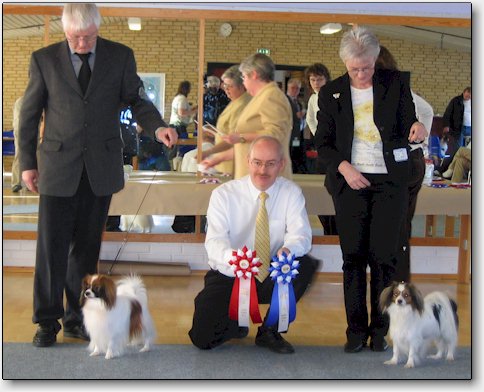 Bertil going BOB Phalene. BOS is DKCH Rosy Wings Carol in Moonlight
Photo: Ole Købler
January 28, Denmark: Bertil is now Danish champion

After 11 CAC's, Bertil was finally 18 months and old enough to be champion. And he finished in grand style going Best male, Best of Breed and Best in Specialty Show. Thanks to judge Mr. Kresten Scheel.

At this first show of the year, our new little papillon boy made his show debut: Blicci's Chip Shot, as the name indicates a son of Chip, DKCH SCH FINCH NORDCH INTCH Blicci's U Are My Universe and Menine's High Fidelity. Little "Toddy" went Best Baby Puppy and Best Puppy in Show.

What a start of the year!

Blicci's Chip Shot