---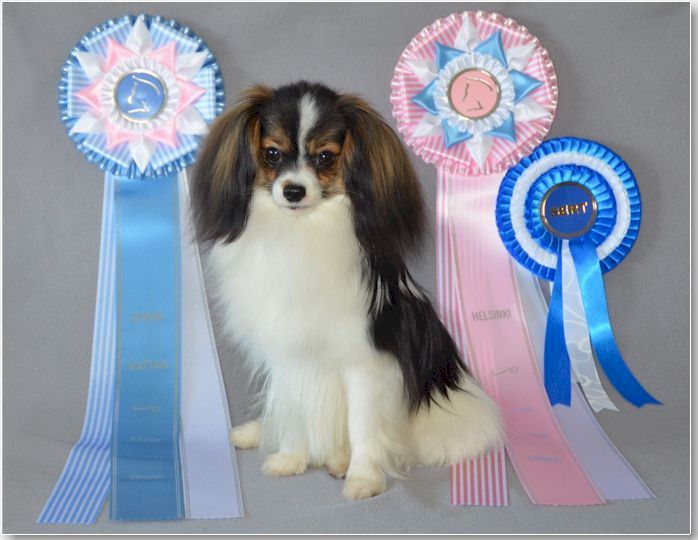 December 5-6, Finland: Super weekend for Lex!
What a weekend in Helsinki, Finland: Lex took two new titles, Helsinki Junior Winner under Dan Ericsson on Saturday and Finnish Junior Winner under Howard Ogden on Sunday. And took the CAC on sunday. Lex now has CAC's in Denmark, Sweden and Finland.
---
November 1st, Denmark: Lex takes his forth title at 13 months!

KLBJCH KBHV15 KBHJV15 Blicci's Love Is In The Air, took another prestigious title in keen competition in Herning at the year's final Danish Kennel Club international show. Best junior male with CK gave him the title Danish Junior Winner 2015. Thanks to the judge Mrs. Christine Rossier from Switzerland.
---
October 17, Norway: Toffee took four new titles on one day!

Jane and Toffee, DKCH SECH KBHV14 Blicci's Hexia De Trix travelled a long way to Hamar in Norway to attend the Nordic Winner Show held in the impressive Hamar Olympic Hall, the "Wiking Ship". Judged by Mr. Joakim Ohlsson from Sweden, Toffee went all the way, she won her class, went best female and finally Best of Breed. And this gave her the titles Norwegian Champion, Nordic Champion, International Champion and Norwegian Winner 2015! We are over the moon about this pretty and sweet girl, limited shown but very successful.
---
* We are currently working on more news updates from May to October, check back for updates! *
* More news & photos coming soon! *
---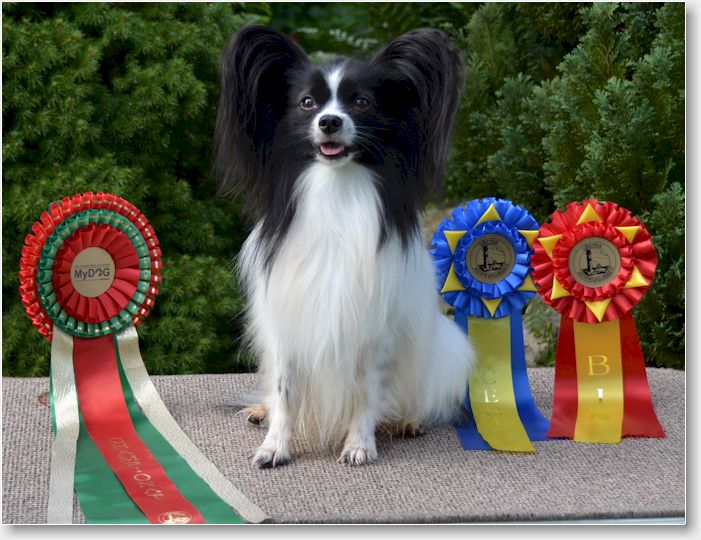 August 23, Sweden: Joe-Joe is now Swedish Champion!
Over the moon over a wonderful best male with CAC and Best of Breed today in Bacamo, Sweden for Joe-Joe, DKCH Blicci's Join The Team, who is from today also Swedish champion! In a large entry of 65 papillons. Thanks to the judge Ann-Christin Johansson.
---
| | |
| --- | --- |
| | |
| Lex, Blicci's Love Is In The Air | Trille, Blicci's Listen To Your Heart |
April 25 and 26, Denmark: Our Phalene puppies in the ring and winning again!
It had been a long time since they were in the ring, but Lex and Trille showed and charmed the judges again at the DKK international shows in Roskilde. Lex was entered on Saturday and Trille on Sunday. Both won their puppy class and thereafter went Best Phalene Puppy! Thanks to the judges Dragana Bujisic from Serbia abnd Anne Mari Haugsten from Norway. The same weekend, DKCH SECH Blicci's Jet Set Celebrity went to Opole in Poland and finished her Polish champion title! Congratulations to her owner Lise Verburg and thanks to her handler Lars Kalkerup.
---
March 21, Denmark: Britt goes Best of Breed!

DKCH SECH Blicci's Jet Set Celebrity made her impressive start of her specials career by going Best of Breed and Best In Show-2 at the club show in Strib, judged by Veli-Pekka Kumpumäki from Finland. This time handled by Lars Kalkerup and the two of them made a very nice team! Congrats to Britt's owner Lise Verburg. It is so nice to see Britt follow in her sister Bianca's footsteps and doing so well in the rings.
---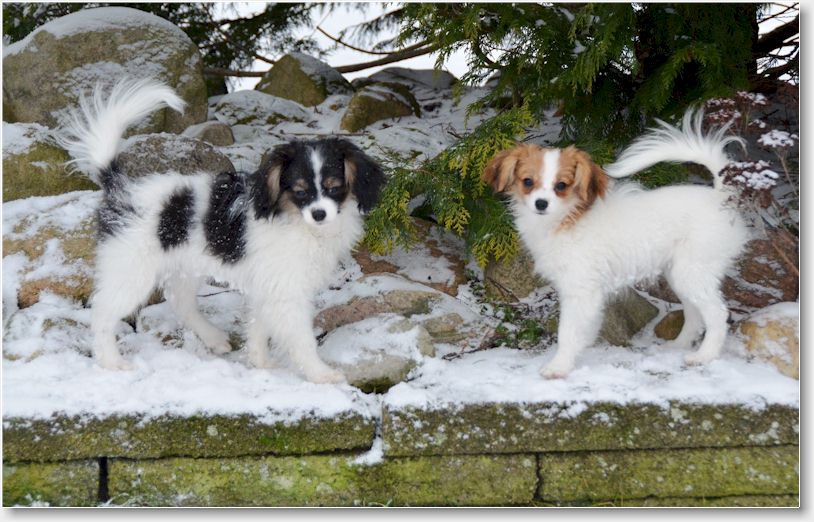 "Shows are nice but playing in the garden is more fun!"
February 8, Denmark: Our two phalene puppies at their first international show!
Our phalene babies were shown again at the DKK international show in Fredericia. This time it was the boy Lex, Blicci's Love Is In The Air, who won best baby puppy in breed under Charlotte Høier. Her critique was very flattering: "4.5 months old male puppy of lovely quality and type, everything fits nicely, lovely head and expression, good strong bones of appropriate substance for age, strong sound little body, moves very nicely and enthusiastically with perfect tail carriage for a puppy, beautiful ear carriage - I think we have a little star in front of us here today". Thank you! Lex' litter sister Trille went best female baby puppy also with a very nice critique.
---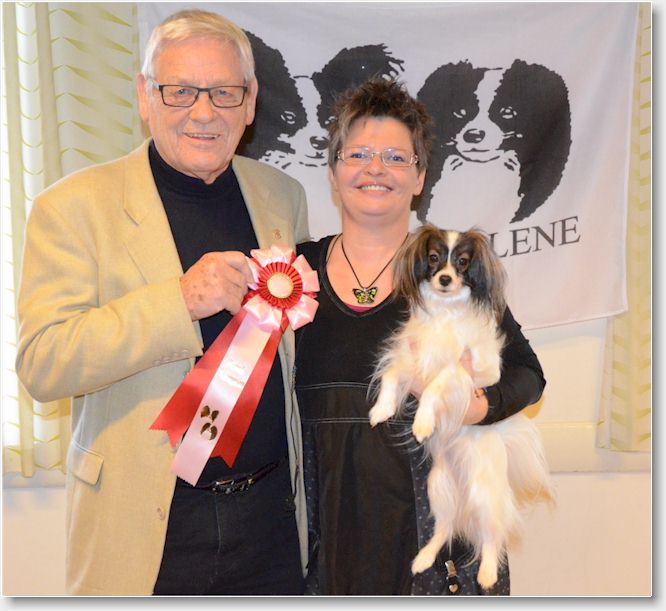 January 24, Denmark: Blicci champion No. 40!
Long awaited and most welcome: Beautiful, elegant and also very energetic Blicci's Jet Set Celebrity can now follow in her her litter sister's footsteps and add the title Danish and Swedish champion to her name. Huge congratulations and thanks to Britt's owner Lise Verburg, to her super handler Stina Bjerrringaard Hansen and last but not least to highly esteemed all-round judge Ole Staunskjær who gave her the final CAC that released both her Danish and Swedish champion title.
Also at this show, the year's first club show in Vetterslev-Høm, our two phalene youngsters Blicci's Love Is In The Air (Lex) and Blicci's Listen To Your Heart (Trille) had their debut. Both showed like pro's already! Lex went best baby male phalene puppy and Trille went best baby female phalene puppy, and thereafter best baby phalene puppy and finally Best in Show Puppy in keen competition, including all the papillons puppies of age up to 9 months!
Thanks to the club for always organizing great shows!