---
We can look back at a fantastic year 2014 with a lot of activities in the show ring and with lots of success too. Three new champions, Danish Ch BLicci's Join The Team, Danish Ch Blicci's It Takes Two To Tango after only 6 shows totally, and last but not least Danish and Swedish Champion Blicci's Jazz It Up, who in plus of her champion titles could add a number of prestigious titles too: Copenhagen Winner 2014, Danish Winner 2014, Danish Club Winner 2014 (No. 1 phalene bitch of the year), Danish Kennel Club Breed Winner 2014 and Danish Club Champion. Also our little DKCH SECH Blicci's Hexia De Trix had a smashing year, taking her Swedish title in the most impressive way, entered at just one show this year, the international show in Tv??ker where she took Best of Breed in a huge entry. In Denmark she went Copenhagen Winner 2014 and had a nice last show weekend in Herning with a best female and BOS.
Now we look forward to an exciting new year, and in addition to the the established stars we have in the usual Blicci style some promising new show potentials waiting in the wings! "2015 Bring It On" and it will be great to see you all again very soon!
---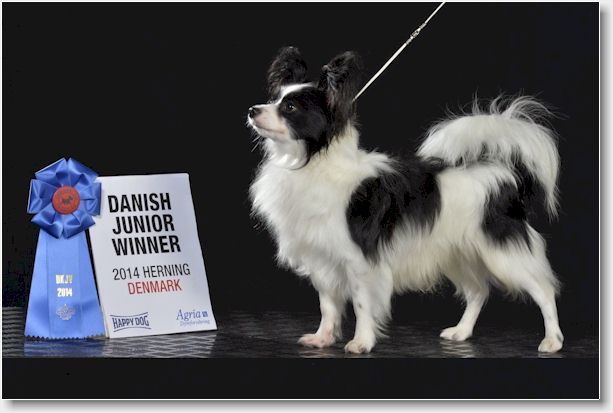 "Cooper", Lemuro's What Up. Photo: Wiegaarden
November 7, Denmark: A lot of lovely new wins for our dogs!
This year has been a great year for us in the show rings, and October and November were no exceptions. Bianca continued her winning ways at the club shows with several big wins and points for the club winner ranking, and the title of Danish Club Winner 2014, i.e. top winnng phalene female, is now sure. Also she finished her Danish Club Champion title. At the year's last international show weekend in the Danish Kennel Club, Bianca went BOB on Saturday and BOS on Sunday and achieved two more new wonderful titles: Danish Winner 2014 and Danish Breed Winner 2014. We are totally thrilled about this lovely and happy girl and so grateful for all the nice comments about her from both judges and friends. Thank you!
Also Toffee did well in Herning, going best female and BOS papillon on Saturday.
And last but not least, our handsome imported boy from Lemuro Kennel in Lithuania, Lemuro What's Up, took his first title, Danish Junior Winner 2014! Cooper just loves the show scene and charms everybody.
---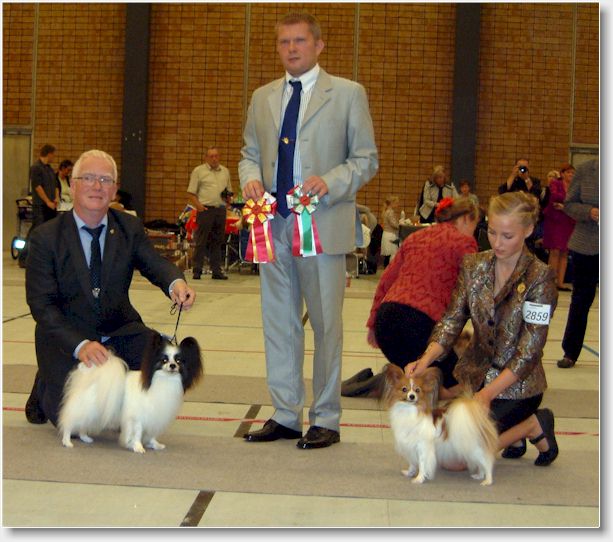 September 21, Denmark: Two Blicci Copenhagen Winners in the same show make a new kennel record!
What a day at the Danish Kennel Club international show, the Copenhagen Winner Show in Hiller?d. First our little papillon girl Toffee went best female and Copenhagen Winner and Best of Opposite. Huge thanks to superb junior handler Josefine Sandby who made Toffee look her absolute best in the ring. Congrats to best male, Copenhagen Winner & BOB, DKCH INTCH Toymaker's You Never Can Tell.
And then Bianca stepped into the phalene ring and did wonderfully, going best female and Copenhagen Winner and Best of Breed!
Thank you very much to the judge Dusan Paunovic from Serbia.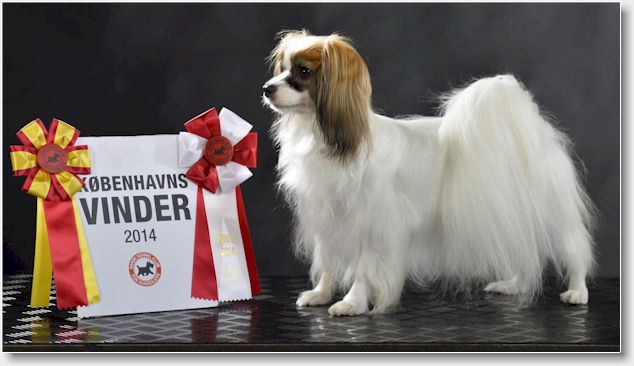 Photo: Wiegaarden
---
September 6, Denmark: Bianca is Best In Specialty Show for the first time
Best in Specialty Show for the first time, Bianca was going into the footsteps of her father, grandfather, great-grandfather, great-great grandfather and great-great-great grandfather, all phalenes going BISS over the papillon, always a nice accomplishment from the dropear point of view! Congrats to BOB papillon, DKCH SECH DECH DEVDHCH Toymaker's Wannabe Vip. Thanks to the Icelandic judge ?sta Maria Gudbergsd?ttir, a well known young successful papillon breeder on her first judging assigment outside Iceland.
Also our papillons did well, with Joe-Joe and Tango taking best male-2 and best female-2 respectively.
---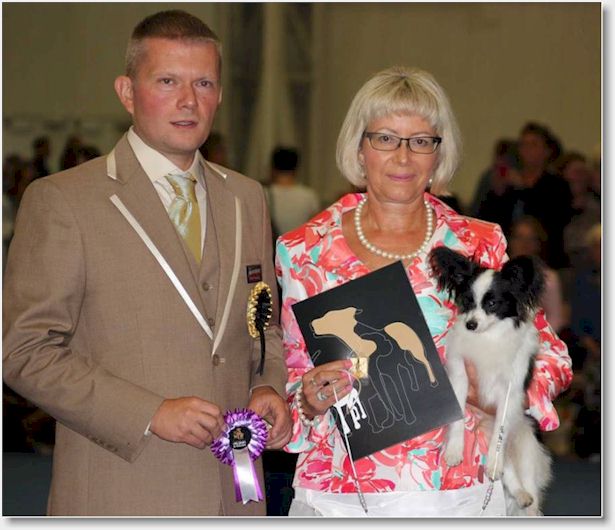 Photo: Marianne Hansen
August 10, Finland: Cooper is BOB Puppy at the World Dog Show!
Lemuro What's Up, our 7 months old papillon boy, took a wonderful win at the world dog show under Dusan Paunovic, going Best Puppy in quite keen competion, defeating e.g. a top winning puppy from Finland. Big congratulations to Cooper's breeder, Egle Palaimaite in Lithuania! This was just Cooper's second show weekend out but he enjoyed the whole event a lot, like a little pro.
---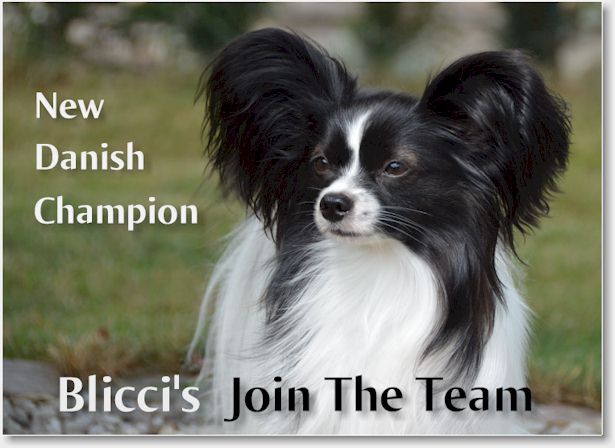 July 26, Denmark: Joe-Joe is now Danish champion, Bianca takes her first BOB, and Cooper wins at his first show
What a day for us at the Danish Papillon and Phalene Club's double show. At the morning show, judged by Annette Bystrup, our puppy Cooper, Lemuro What's Up had his debut in the show ring and went Best Puppy. A little later, Joe-Joe went best male #2 with CAC, and thus finished his Danish champion title at his first show after turning two years. At the afternoon show, judged by Gunnar Nymann, Bianca shined in the ring and took her first Best Of Breed. Cooper took Best Puppy again and Joe-Joe took his first Club CAC for the title Danish Club Champion. A wonderful day and thanks to both judges.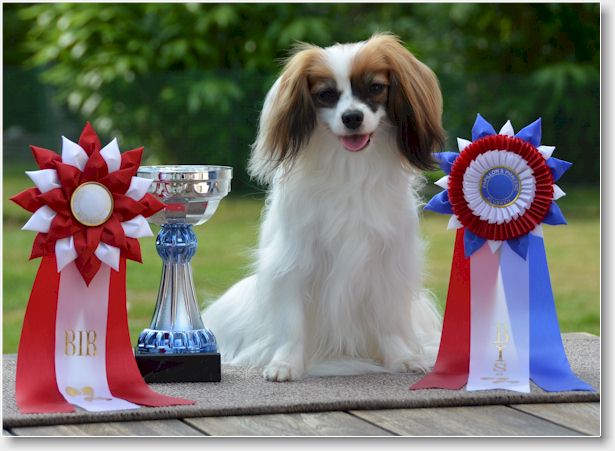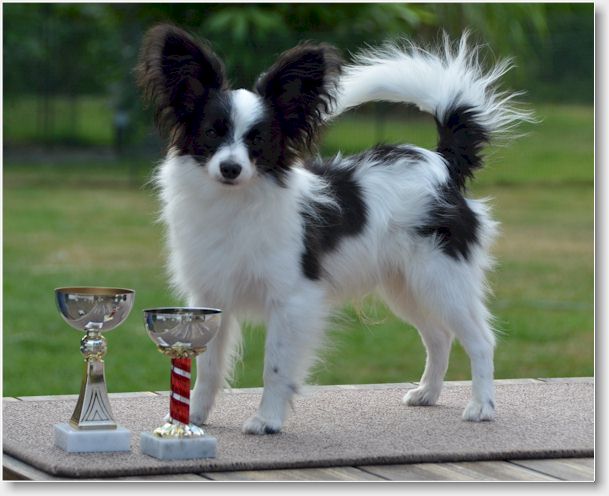 ---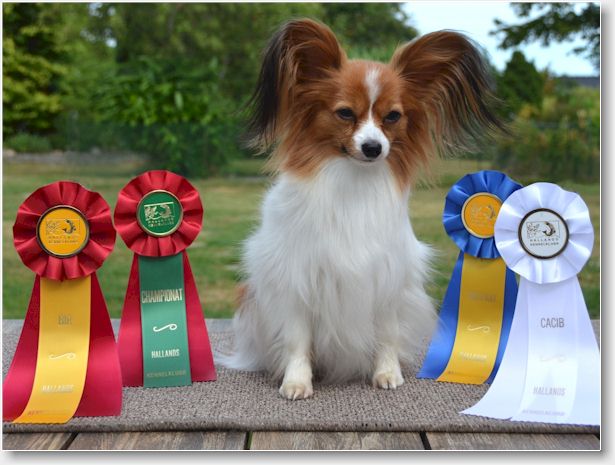 July 11, Sweden: Toffee took Best of Breed and finished her Swedish champion title
Tv??ker in Sweden is, like Vejen in Denmark, one of the show weekends we like to travel to, a nice show venue and well organised. This year Jane only attended the Friday show, and our little Toffee went straight to the top in a large entry of 69 papillons. Best female with CAC and CACIB, and Best of Breed. Our sincere thanks to the judge, Heather Lamont from Ireland. And thanks to all the nice people there, Danish as well as Swedish, who cheered us on and were good company all the day. You are much appreciated!
---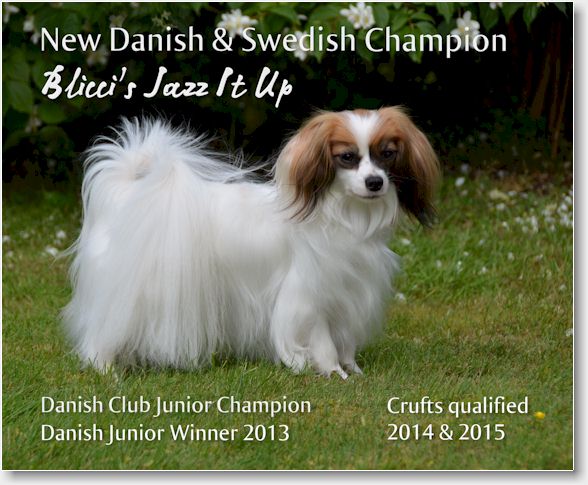 June 21 & 22, Denmark: New Blicci champion and a great show weekend in Vejen
The Vejen show weekend was another great weekend for our dogs. On Saturday, Joe-Joe went best male with CAC and CACIB. Only six days too young to finish his Danish champion title! Thanks to the judge Kenneth Edh from Sweden! On Sunday he took again CACIB and went 2nd best male. And topping it all, Bianca finished her Danish and Swedish champion title and got also her first CACIB. Thanks to the judge Kim Bay from Denmark!
---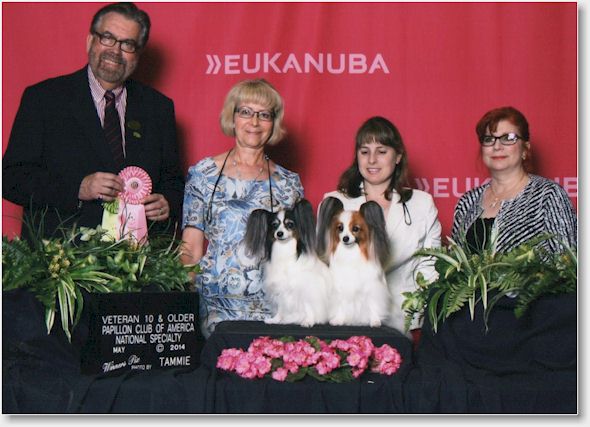 May 31, USA: "Star" at the Papillon Club of America National Specialty
Wonderful 14 year old Star, CH MACH5 Blicci's Sandra Dee MXC MJB2 OF shined in the ring together with her beautiful 11? year old daughter Cher, CH MACH6 StarStruck Moonstruck RN NF. Both girls went in the Veteran 10 & older class. Cher won the class, shown by her breeder Andrea Samuels and Star went 3rd, shown by Jane. Congrats to Andrea and Cher's owner Nancy Andrysiak. Star is now officially retired from the show ring and enjoys life as always with Andrea. All her kids and and grandkids did wonderfully at this National, Rolex Replica not least in the agility rings. Congrats to all!
---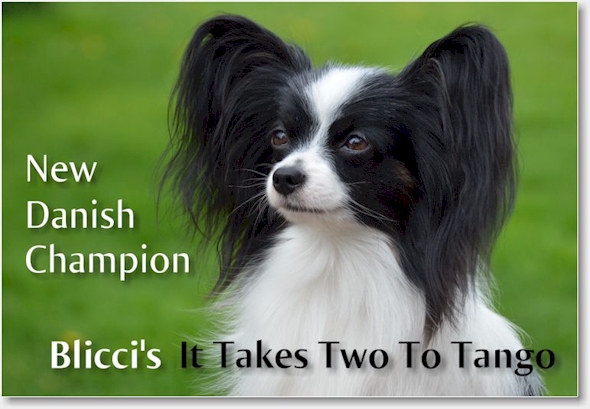 May 17, Denmark:
New Danish champion, Blicci's It Takes Two To Tango!

Shown once as a junior in the summer 2012 and mother of a litter of puppies last summer. Then she was ready to take up her show career again this spring - and things started to happen very fast! After just five shows in 2014 Tango is now a Danish champion. This is record time for dogs of our kennel, but there sure are reasons for it. Tango is close to perfect according to the breed standard: She's dainty and typical with a lovely head and expression and correct papillon ears, well constructed body, elegant movements and silky single coat.

Thank you to the three judges giving her the CAC's, Charlotte H?ier, Claire Anne Ahern (photo below), and Hanne Laine Jensen who also awarded Tango best female and BOS.

The happy photo to the left is from the club show in the afternoon where Tango had her debut in the champion class and won it!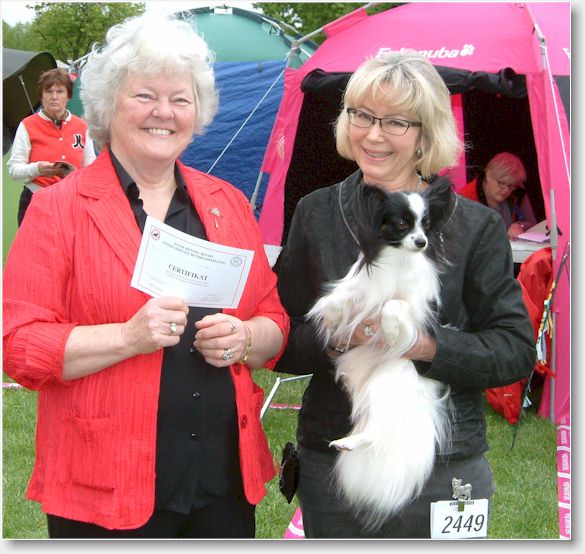 ---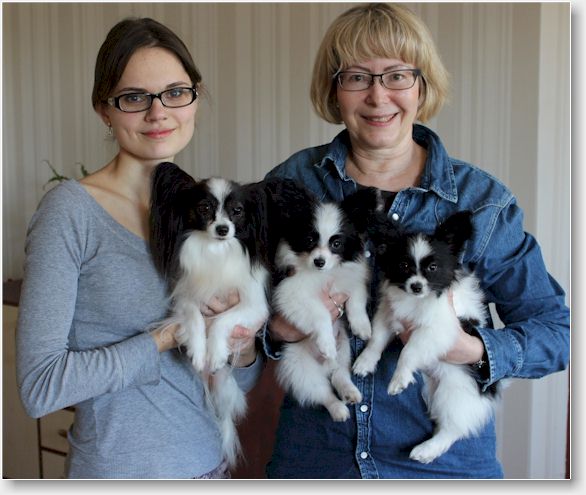 April 4, Lithuania/Denmark: Welcome to "Cooper"!
Welcome to a most charming new addition to our gang, Lemuro's What Up! Bred by Egle Palaimaite in Lithuania. He is out of LTCH Aurin vom Schwabenhof sired by ITCH Dorado vom Schwabenhof. Jane went to Klaipeda to pick up the puppy, and in the picture Egle is holding the beautiful mother Pepsi and Jane holding What's Up and his litter sister Lemuro Wow Is Now. Thank you Egle and Donatas for all your hospitality! The boy, whose call name will be Cooper, has already settled very well in our home.
---
March 22, Denmark: Tango taking off!
She started her show career a little later than most, but what a way to do it. At the club show in Str?by, Blicci's It Takes Two To Tango was now ready to truly shine and conquer the ring, winning open class, taking Best female with CAC over champions and Best of Opposite. Thanks to the judge Charlotte H?ier for the lovely words about our little beauty. Congrats to Best of Breed, DKCH INTCH Toymaker's You Never Can Tell, owned by Marianne Hansen and thanks to Telse for the nice photo!
DKCH Blicci's Hexia De Trix was also placed in the Best female class and after two shows, she is topping the female ranking 2014!