---
December 15, USA: Carly shines again!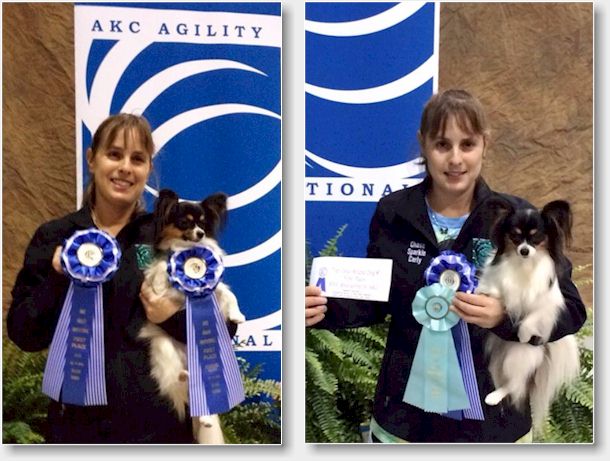 At the AKC 2013 Agility Invitationals in Orlando, Florida, Andrea Samuels and her wonderful little Carly, CH NAC MACH5 Starstruck Anticipation, made another incredible accomplishment, winning the 8 inch category and Best Bred By Exhibitor too. She won every round including the finals and a cash prize of total USD 1400, and I heard that Andrea went on a well deserved Disneyland tour afterwards!!! Big congratulations from us here who are proud "grandparents" of Carly. What a way to finish the year!

Enjoy the video of Carly's fantastic weekend!
Here is the beautiful photo of the year's winners, each in their size category. http://images.akc.org/agility_invitational/2013/webWinners.jpg
---
November 3-4, Denmark: Successful weekend at the Herning International Shows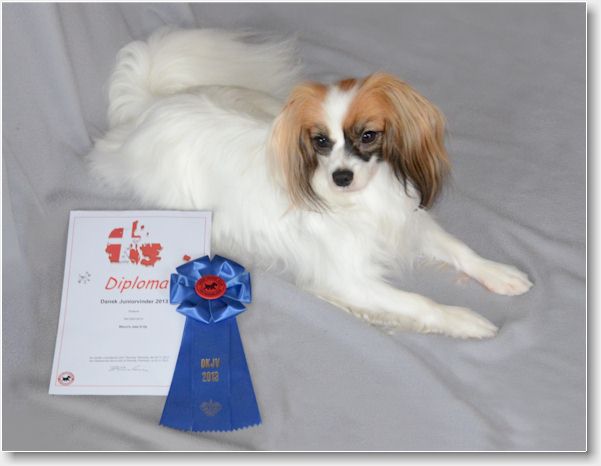 What a weekend! On Saturday, Joe-Joe took his third CAC from the Junior class and went best male #2, defeating several champions. And got an absolutely lovely critique from the judge, Ms. Saija Juutilainen from Finland. Thank you!
Bianca, only shown on Sunday, shined in the ring again, won her junior class and got the title Danish Junior Winner 2013! A lovely critique also from this judge, Ms. Tanya Ahlman-Stockmari from Finland. Thank you!
A super weekend, spent with good friends at ringside and in the evening. Thank you everybody! And congrats to all winners both days.
---
October 5, Denmark: Our two Junior Club Champions celebrated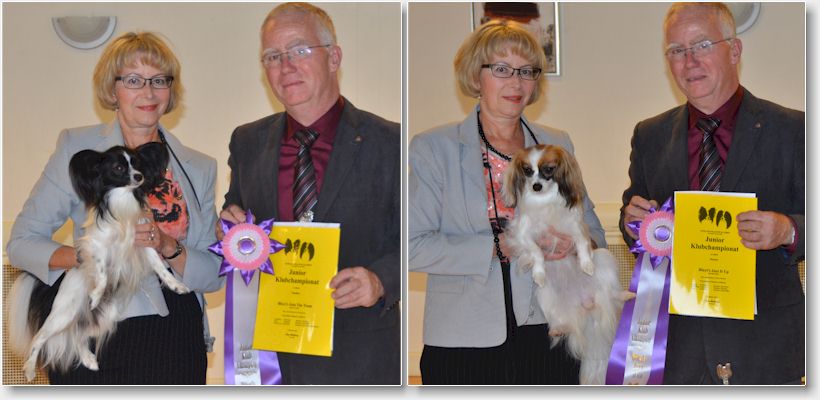 Papillon Blicci's Join The Team and Phalene Blicci's Jazz It Up
So pleased to receive the official diplomas and lovely rosettes for our two Club Junior Champions. Thanks to the Papillon-Phalene Club! The prizes were handed over by our club president, Lars Kalkerup.
---
September 22, Denmark: Joe-Joe takes his 2nd CAC at the Copenhagen Winner Show
We had a great day at the prestigious Danish international show in Ballerup, where Joe-Joe went Best male #3 among champions and took his 2nd CAC. The weekend before we went to Sofiero in Sweden with him and he was Best Junior with CK in strong competition.
---
August 25, Sweden: Jet's beautiful daughter Penny finishes her Swedish champion title with BOB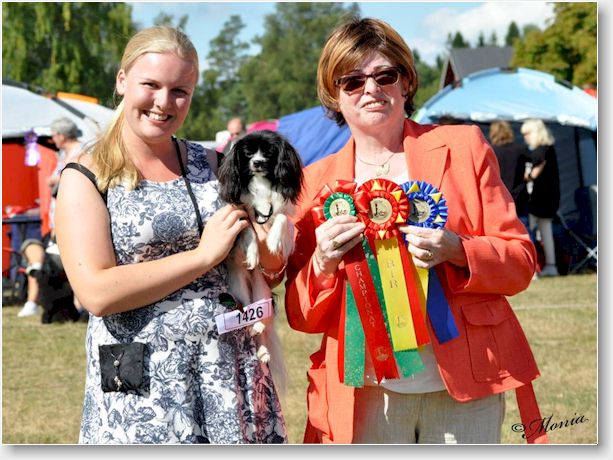 Big congratulations to Amanda and Birgitta Bernhed on this lovely win in Backamo, where JWW11 Noble Nadir's Penny finished her Swedish champion title in great style, going Best female and BOB under breeder judge Kitty Sjong. Penny is sired by DKCH SECH NOCH NORDCH INTCH USCH KBHV09 DKV09 DKKV09 DKKV10 KLBV09 KLBV10 KLBCH Blicci's Energetic out of SCH VWW12 Noble Nadir's Fina Amanda. Thanks to Monia Wergaard for the happy photo!
In Germany the daughter of Max, Vroni Vicki vom Cavalierchen, finished her German champion title. Big congrats to her owner and breeder Bärbel Lieblich!
---
July 20, Denmark: Joe-Joe finishes his Club Junior Champion title and takes his first CAC and Best male!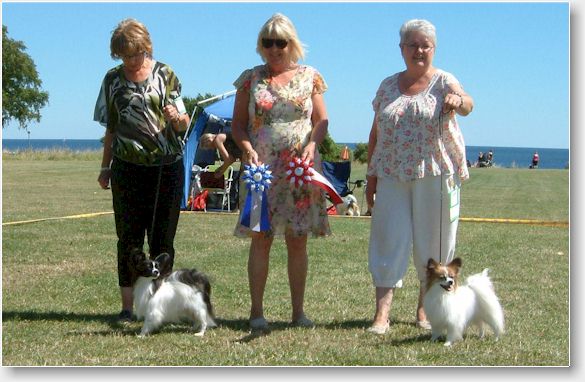 A lovely day at the Papillon-Phalene Club show at the Mosede Fort. Joe-Joe had his first big win from the junior class and Bianca took her 6th Danish CAC. Her litter sister Britt took her first Junior CAC on the way to her title. Congrats to Britt's owner Lise Verburg! The picture shows Joe-Joe going BOS papillon and DKCH INTCH Xandilara Scarlet Lady, taking the BOB from the Veteran class! Thanks to the judge, Ann-Christin Johansson from Sweden and congrats to Scarlet Lady's owner Marianne Hansen.

---
June 30, Sweden: Bianca continues her winning ways, now in Sweden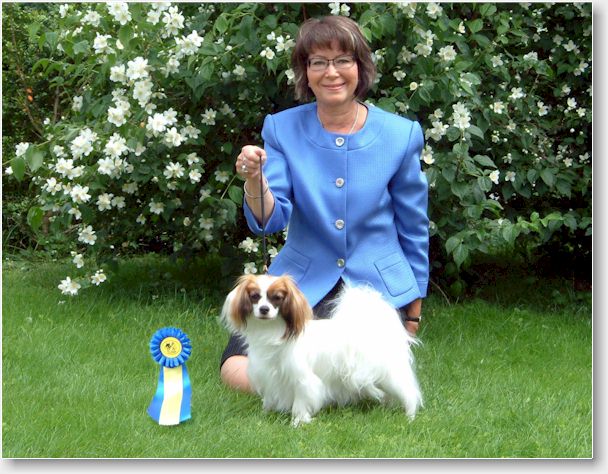 Shown in Sweden for the first time, Bianca took the CAC in Borås under US judge Joan Goldstein. Bianca is the kind of show dog who makes people turn their heads and talk at ringside - in the positive way! Thanks for all your kind comments about our lovely girl.
---
June 15-16, Denmark: Bianca is now Club Junior Champion - and topwinning phalene in Denmark
The show weekend in Vejen was another very successful weekend for us with nice wins for our two youngsters entered.
Saturday's international show, judged by James Newman: Bianca went Best Junior female and best female #3 with CAC in tough international competition. Joe-Joe went best Junior male.

Sunday's club show, judged by Linda Mills: Bianca went Best Junior female and got her final Club Junior CAC for the title Club Junior Champion! The first phalene in Denmark to obtain the title. Bianca went on to be placed best female #2 with CAC. Joe-Joe went Best Junior male and got his second Club Junior CAC.
Bianca - Photo: Seize the day
Bianca is now the top winning phalene in Denmark

Joe-Joe - Photo: Katrine Klok Larsen
---
May 18-26, USA: Star and her descendants rule the ring!
At the Papillon Club of America's National Specialty in Kentucky, magnificent 13 year old Star, CH MACH5 Blicci's Sandra Dee MXC MJB2 OF and her incredibly beautiful 10 year old daughter Cher, CH MACH6 StarStruck Moonstruck RN NF had a real good time! Cher and Star went No. 1 and 2 in the Sweeptakes 10 & older, judged by Tracy Burdick and Star was winner in Veteran 10 & older under Randy Garren. Thanks to Andrea Samuels for presenting the two elderly ladies in such gorgeous condition and congrats to Andrea and Cher's owner Nancy Andrysiak.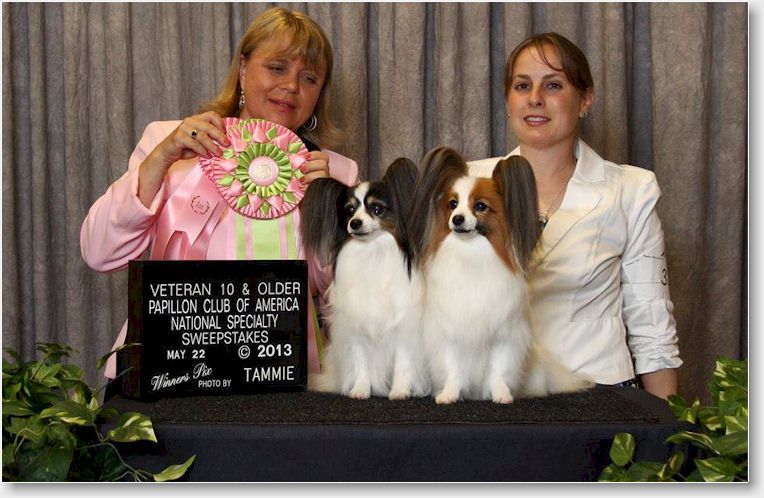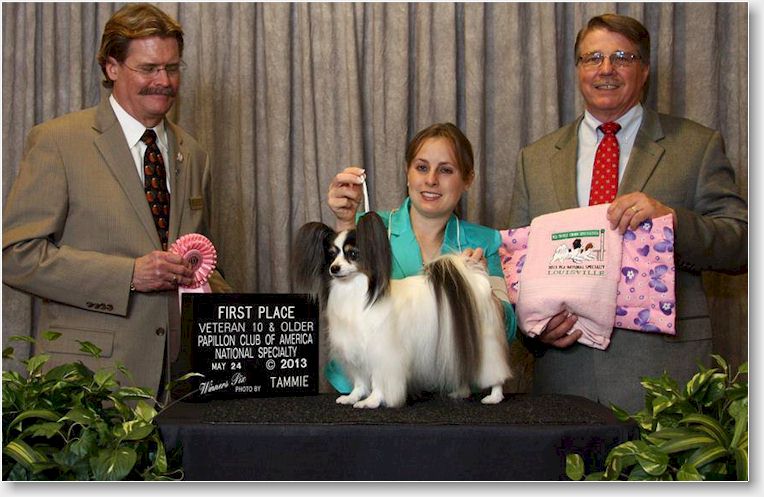 Topping it all was Star's granddaughter Carly, CH MACH4 StarStruck Anticipation, who at the agility trials went twice High in Trial and all three days was High Scoring Champion and PCA's Top Agility Papillon. Huge congratulations to Andrea on these incredible accomplishments! Photo below.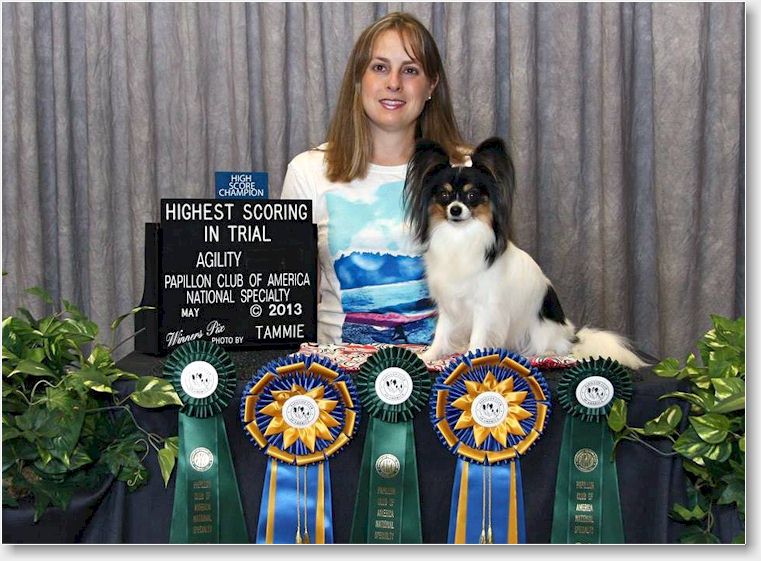 ---
May 18-19, Denmark: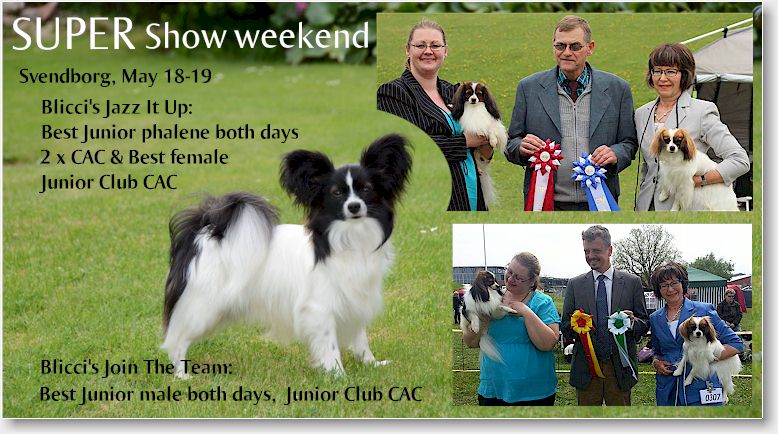 Thanks to Saturday's judge Carsten Birk and Sunday's judge Kim Bay
Our sincere congratulations to Best male & BOB phalene both days, NOCH Freetain's Even A Mix O'Man
Winner photos: Marianne Hansen and Mia Aagaard Nielsen
---
Best Junior bitch and Crufts qualified, and 3rd best female and Reserve CAC, we are very pleased with this accomplishment for our young phalene girl Blicci's Jazz It Up. We also received many compliments about her from ringside, thank you very much everybody!
Big congratulations to Aleksandra Otkińska-Iwicka, Lilly's Papillons in Poland, for travelling and finishing two titles in succession on her lovely Lilly's Ritzy Sparkle, offspring of our Ponda's Uncle Unicum: Romanian champion and Hungarian champion. Way to go!
The Danish Papillon-Phalene Club Show in Nyborg became a really nice day for us, not least seeing our lovely young phalene girl Blicci's Jazz It Up doing so well. Best junior female with Junior CAC, Best junior phalene, Best phalene female with CAC and Best of Opposite Sex. Thanks to the judge Mr. Jens Bruse from Germany.