---
December 15, USA: Brody is back in the Winner Circle

Jenny and Kim travelled to the AKC/Eukanuba National Championship in Orlando with USCH GCH SECH DKCH Mystery's Question Mark and his mother USCH INTCH BISS Majical Mystery's Abby Road. Both were very successful! Abby was Select bitch on Thursday and BOS on Friday - from the Veteran class! - and Brody was Select dog on Friday and ended the weekend with a great 3rd Award of Excellence at the main show on Saturday (photo above, judge Jacqueline Stacy). It was Brody's first shows since he returned to the US. Our sincere congratulations and best wishes for a smashing show year 2013!

---


December, Germany: Max is the Top Papillon 2012

With 13 Best Of Breeds in 2012, INTCH DKCH DEVDHCH DECH PLCH Blicci's Golden Universe is the topwinning papillon in the German Toy Dog Association, the Verband Deutscher Kleinhundezüchter e.V. and also 6 times Landessieger. Always handled by his owner Bärbel Lieblich. Huge congratulations and well done! The photo above shows Max at the show in Meitingen in November where he was both days BOB and Landessieger. Also his two daughters were winners this show weekend. Baba Jaga vom Cavalierchen who took Youth CAC both days and is now German Youth Champion, and Dolly Dancer vom Cavalierchen who went Best Puppy both days and BIS-2 Puppy on Sunday. Our sincere congratulations!

---


November 24, Denmark: New champion: Blicci's Hexia De Trix

Our lovely little Toffee is now Danish champion! Just turned two years, which is the minimum age for obtaining the title in Denmark, she got the final CAC at the year's last show in Aalborg, judged by Jan Sonne-Schmidt. Toffee is #36 champion of our breeding, #11 champion offspring of her father DKCH SECH FICH NORDCH INTCH Blicci's U Are My Universe and #3 champion offspring of her mother DKCH SECH Lamonia's Evelina. The reserve CAC went to another of our girls, Blicci's Floradora.

---

October 6, Denmark: The third CAC for Toffee and Puppy hopes in the ring

The Club show in Vetterslev-Høm became another nice show day for Blicci's kennel: Blicci's Hexia 'De Trix took her 3rd CAC in succession but is still not old enough to be a champion. Our new puppy hopes did well: Blicci's Jet Set Celebrity went Best Baby Puppy, phalene (congrats to her owner Lise Verburg!) and our little papillon boy Blicci's Join The Team had his show debut and went Best Baby male.

---

September 15-16, Denmark: Back-to-back CAC, CACIB and BOS to Toffee


Sunday, BOB: DKCH INTCH Toymaker's You Never Can Tell - BOS: Blicci's Hexia De Trix
Judge: Annaliisa Heikkinen - Photo: Marianne Hansen


Saturday, BOB: Petitchien's Mr Melodrama - BOS: Blicci's Hexia De Trix
Judge: Claire Anne Ahern

Jane had a super weekend, travelling to the Danish Kennel Club's international shows in Vejen. Blicci's Hexia De Trix blew all competition away in the females and went Best female and BOS with CAC and CACIB both days. Way to go, showy little girl!

Congrats to the BOB dogs too, well done Marianne & Lars.

Brody, USCH GCH SECH DKCH Mystery's Question Mark, went 2nd best male with Reserve CACIB on Sunday and this will be transformed to a CACIB. He then has two CACIB's in Denmark and one in Sweden and will only need one more in a third country to be International champion.

We said goodbye to Brody later that week since he travelled home to his owners Jenny & Kim Widing in the US after having spent 9 months here with us. It has been a great pleasure to have him here - such a personality, a wonderful little dog. He has offspring here and in Germany and we look forward to seeing these puppies grow up. Thank you, Jenny and Kim for letting Brody come here and have fun in Denmark and Sweden! We know he is happy to be home with you again.

Along with Brody travelled his daughter, little Dotty, Blicci's Jewelina, an offspring of DKCH SECH Lamonia's Evelina. We wish Dotty the best of luck in her new home with Jenny and Kim!

---

September 9, Sweden: DKCH Blicci's Every Little Thing is now Swedish champion

Rikke Rask finished her Swedish champion title at the SDHK show in Eket with CAC, Best female and BOS. Thanks to judge Ms. Tiina Taulos from Finland and big congratulations to her happy owner Susanne. Sven did a great job handling Rikke Rask who lives her daily life as a highly beloved couch potato!

---

July 21 & 22, Neussen, Germany: A super weekend for Max

Congratulations to Max, INTCH DKCH DEVDHCH DECH PLCH Blicci's Golden Universe and his owner Barbel Lieblich for going Best of Breed and Best in Show #3 both days at the German Toydog Club's shows in Neussen! We are so proud of you!

---


BOB: USCH GCH SECH DKCH Mystery's Question Mark
BOS: EUW-11 NORDJV-10 NORDCH Menine's Lady Stardust - Congratulations to Petra and Sonja Lindlöf!
June 16 & 17, Denmark: Great wins at the International shows in Ballerup, Copenhagen

On Saturday Brody, USCH GCH SECH DKCH Mystery's Question Mark, went Best male and Best of Breed, taking his first Danish CACIB. Also our girls Gwen and Toffee did well, winning their classes with CK and being placed Best female #3 and #4. Thank you to the judge Mrs. Charlotte Patterson from the US! And congrats to Brody's happy owners in the US, Jenny and Kim Widing. After the show, Gwen's reserve CAC on the day was changed to a CAC, so Gwen is now New Danish champion!

On Sunday, the Copenhagen Winner Show, Gwen, Blicci's Gwen Stefani, went best female with CAC and CACIB and the title Copenhagen Winner 2012. Thank you to the judge, the legendary Rainer Vuorinen from Finland!
---
May & June, Russia:

Happy news about Blicci's Illumination

On May 3, Blicci's Illumination sired his first litter of four puppies in Moscow, three girls and a boy!

On May 26, Luchik finished his title of Russian Junior Champion and went Best of Breed at the regional show in Moscow.

And on June 10, Luchik went BOB again and got his first CAC on the way to the Russian champion title.

Congratulations on all this to his owner Natalia Privalova!
---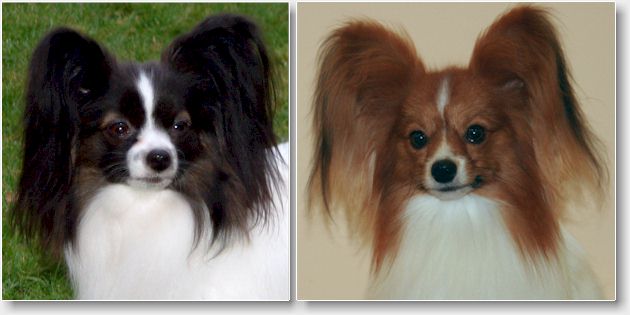 Two successful littermates: Gwen and Max!
May 6, Denmark and the Czech Republic: Gwen and Max on the roll
Thanks to judge Brith Andersson from Sweden who awarded Blicci's Gwen Stefani her first CAC and Best female #3 at the international show in Roskilde. The day before, Gwen went Best female #2 with Reserve CAC and Reserve CACIB under Francesco Cochetti from Italy. Gwen looked outstanding in the ring and we got a lot of nice comments about her. Thank you everybody!
Shown only on Sunday, our 6 months old girl Blicci's It Takes Two To Tango went Best Puppy in breed.
Also on Sunday, in Prague, Gwen's litter brother Max, INTCH DKCH DEVDHCH DECH PLCH Blicci's Golden Universe, took CAC, CACIB and BOB. Big congrats to his owner Bärbel Lieblich!
---
April 29, Germany and Russia:
Great weekend for Blicci Papillons!

At the international show in Opole in Poland, Max took CAC and CACIB finished his titles International champion (C.I.B.) and Polish champion.

Congratulations to his owner Bärbel Lieblich and thanks to the judge Kitty Sjong from Denmark.

And on the same day in Moscow, Russia, Blicci's Illumination, Gwen's son, was Best Junior Male with Junior CAC. Congratulations to his owner Natalia Privalova.
---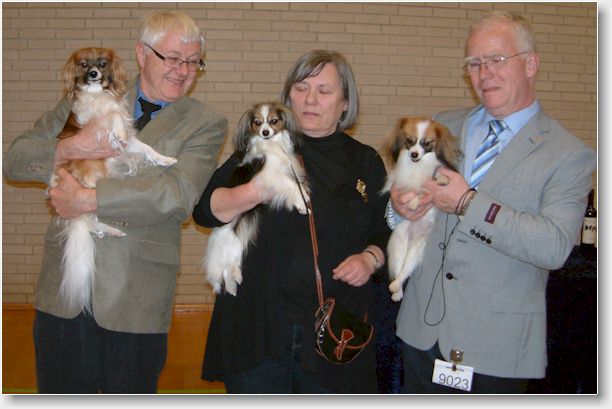 April 22, Denmark: The first champion offspring of Jet
At the Papillon-Phalene Club show in Herlufmagle we could celebrate the two first Danish champion offspring - moreover littermates! -sired by DKCH SECH NOCH NORDCH INTCH KBHV09 DKV09 DKKV09 DKKV10 KLBV09 KLBV10 KLBCH Blicci's Energetic. To the left Kecil Wait Your Chance (Amy), owned by us, to the right WJW11 Kecil Winner Takes It All (Liller), owned by Marianne Hansen, and in the middle their beautiful mother Kecil Vanity Fair with breeder Lise Verburg. Huge congratulations! Since Amy already has a CAC in Sweden she also gets the Swedish champion title.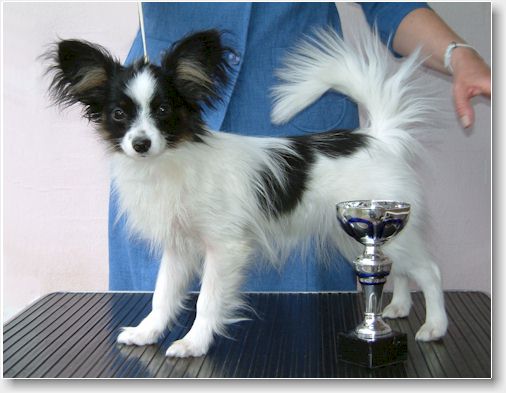 Our 5 months old girl Blicci's It Takes Two To Tango (DKCH SECH Maison Royale Pétale - NORDJV08 Blicci's Floradora) had her show debut and went Best Baby Puppy. And Brody took his first Club CAC of four for the Club Champion title. Thanks to the judge Linda Volarikova from Slovakia.
---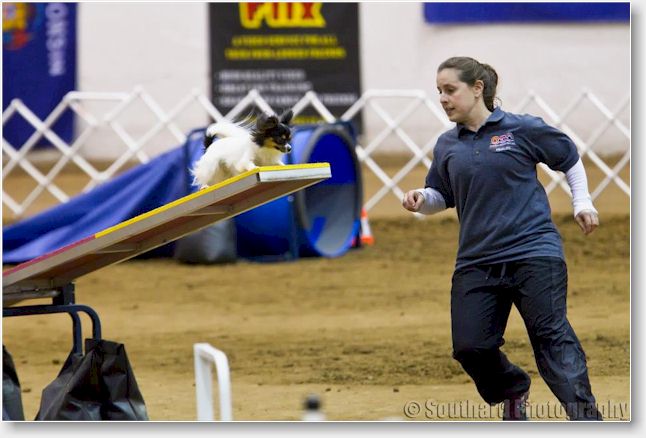 April 1, USA: Incredible news: Carly is the 8" division National Agility Champion 2012!
Andrea Samuels takes this magnificent title for the second year in succession. Last year with Sparkle - this year with Sparkle's daughter Carly, which makes it all even more impressive! Our sincere congratulations. We are so proud and honoured to be a part of this, since Sparkle is the daughter of Star, and Carly her granddaughter (moreover linebred to Star).
Officially, Carly is: NAC CH MACH StarStruck Anticipation NF, and her mother Sparkle is: NAC CH MACH4 StarStruck Sparkle Plenty OF. Both AKC Champions, both Master Agility Champions, and now both National Agility Champions. It doesn't get any better! Thank you Andrea for all the hard work, talent, patience and love you are putting into your lovely dogs.
The stunning photo above has its own history: Tiny Carly has an obvious problem with the teeter due to being as light as a feather and last year she accidentally jumped off it. Andrea has been training intensively on this detail for a whole year, and photographer Steve Southard is catching the magic moment where the two of them are fighting gravity and conquering that see-saw!
---
March 27-31, USA: Videos from the PCA National in Seattle
Jane attended the Papillon Club of America's National Specialty in Seattle and made a lot of videos. No Blicci paps entered this year, but a lot of nice dogs to enjoy! Congrats to all winners.

---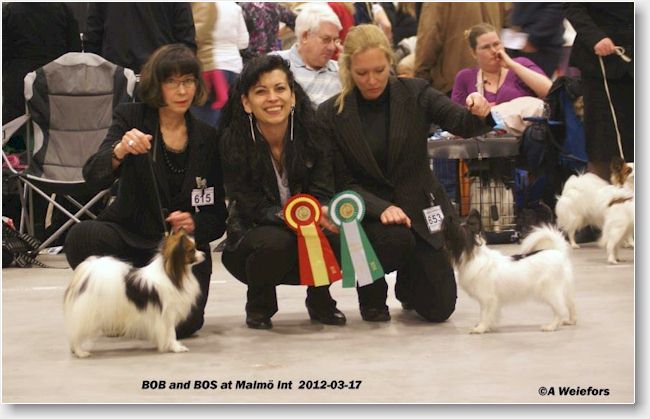 March 17, Sweden: Brody is now Swedish and Danish champion
In an entry of 74 papillons at the Malmö International show, Brody went Best male with CAC and CACIB, and Best of Breed. Brody is now Swedish and Danish champion! Congratulations to his happy owners and breeders in the US, Jennifer Widing & Kim Widing. Best of Opposite, also with CAC and CACIB, was a beautiful granddaughter of Chip, Quetesh. Congrats to her owner and breeder Julia Lindstrii. Thank you to the judge Dagmar Klein, a highly estimated breed specialist.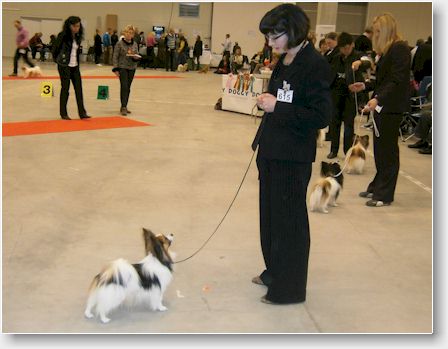 Photo: Katrine Klok Larsen
---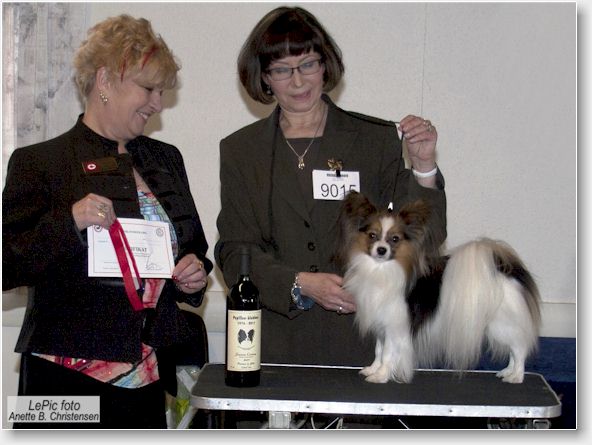 Photo: Sven Thrysøe
February 19, Denmark: Brody gets a smashing start of his Danish show career
At the year's first clubshow in Vetterslev-Høm, Brody took CAC, Best male and BOS under Ms. Lee Anne Bateman from Canada.
Also big congratulations to Sjuströmmars Tinkerbell, taking the phalene female CAC. Tinkerbell sired by DKCH SECH NOCH NORDCH INTCH KBHV09 DKV09 DKKV09 DKKV10 KLBV09 KLBV10 KLBCH Blicci's Energetic out of DKCH SECH Haremet's Betty Boop and owned by Inger Yaglicilar.
---