---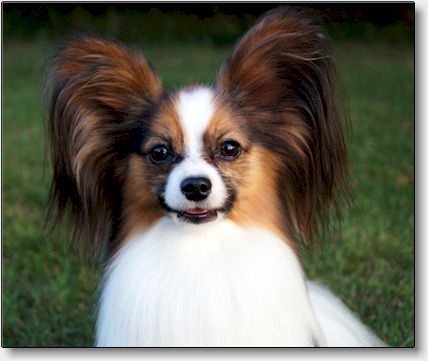 Photo: Jenny Widing
December, Denmark: Welcome to Brody
We are over the moon and very pleased to welcome our new guest from the US, "Brody", GCH USCH Mystery's Question Mark! Brody has come to Denmark to visit and have fun here the next year. Thanks from the bottom of our hearts to his breeders and owners Jennifer Widing and Kim Widing for letting your heart dog come over! Brody is a joy to live with, such a wonderful character. We all love him here!
Brody now has his personal page in our gallery with photos from his impressive show career in the US.
---
Enjoy our show video, taken at the AKC Eukanuba National Championship in Orlando, Florida on Dec. 17!
30 minutes of beautiful papillons in the show ring! You can see Brody there too.
---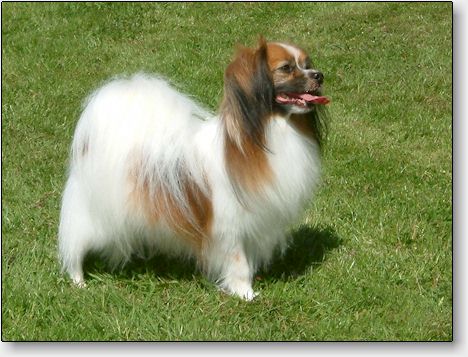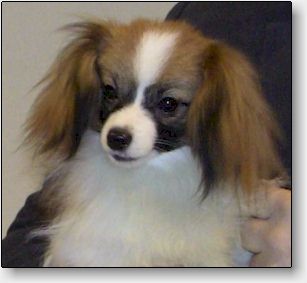 November 26, USA: Jet is now US champion and his son is Top winning phalene male in Denmark 2011
DKCH SECH NOCH NORDCH INTCH KBHV09 DKV09 DKKV09 DKKV10 KLBV09 KLBV10 KLBCH Blicci's Energetic can now add American AKC champion to his titles. Jet finished with a 4 point major on Nov. 26 at the Windham County Kennel Club's show in Massachusetts. Our sincere thanks to Jet's owner Elisa Kamens and his handler John Oulton and to the judge Joseph E. Gregory for appreciating Jet's qualities.
On the same day was the last show of the year in Denmark, and Jet's beautiful son Kecil Winner Takes It All consolidated his position as the top winning phalene male of the year by taking his 4th Best of Breed. Congratulations to breeder Lise Verburg and owner Marianne Hansen and thanks to the judge Gabriele Feldmann from Switzerland.
---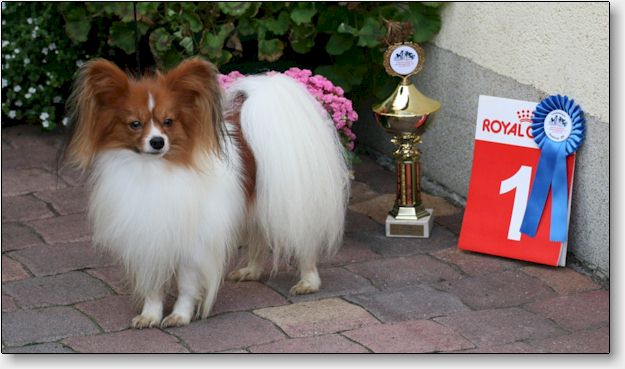 November 13, Germany: Max is now German champion
Danish champion Blicci's Golden Universe is now also German champion VDH & Club after show in Hamburg-Hausbruch. As always, expertly handled by his owner B?rbel Lieblich. Max was also Best of Breed. Big congratulations! The judge was Barbara Palasky from Germany.
---
October 24, Denmark/USA: Cheska has a new home

We are pleased to announce that our little phalene girl Blicci's Francesca has found a wonderful home with Andrea and Dallas Meloon in Arizona, USA (Andali Papillons). Andi came all the way to pick up Cheska here and bring her home. It was hard to say goodbye, but we know that this is the right thing for Cheska who is a very special girl. Thank you, Andi!
---
September 9, Denmark: Goodbye, dear Nina

Sweet little old Nina Ricci has passed away, 15 years old. Her owner Irene made the kind offer that we could have Nina's urn back here where she was born and lived until the age of 8 years. Nina will be buried together with her relatives in our garden.

Nina will be remembered always for her wonderful character. She was also the mother of many gorgeous papillons, among others 7 champions, and has descendants all over the world.

Thank you Irene for giving Nina a wonderful retirement home.
---
August 27, the Faroe Islands:
Bob takes his 2nd CAC and Best of Breed

Blicci's Garibaldi (DKCH SECH DEVDHCH INTCH DECH KLBCH KLBV04 KLBV07 KLBV08 Kecil Jammin? The Blues - DKCH Blicci's Color My Dreams) repeated last year's success by taking CAC and Best of Breed at the yearly National All Breed show in T?rshavn, the Faroe Islands.

Congratulations and well done to his owner Majbritt Petersen! The judge was Paul Stanton from Sweden.
---
July 28-31, Denmark: New Blicci champion!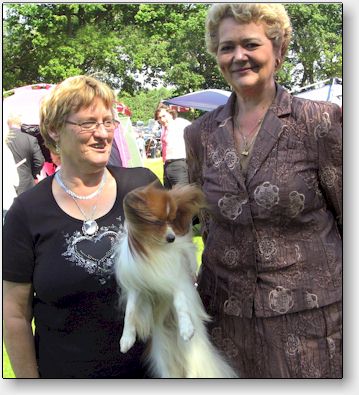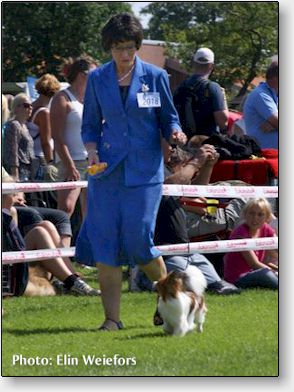 New Danish champion Blicci's Golden Universe (DKCH SECH FICH NORDCH INTCH KLBCH DKKV06 Blicci?s U Are My Universe and DKCH SECH Lamonia?s Evelina) - thanks and congrats to his owner and handler B?rbel Lieblich.
Max finished his Danish championship at the Vejen international shows after CAC?s given by Davida Brown and Marie Patten. We are over the moon over this glorious golden boy doing so well. Max is Chip's 9th champion offspring out of a total of only 28 puppies.
His little sister Blicci?s Hexia de Trix (same parents) had a smashing show weekend too with two Best Puppy wins. She turned 9 months on Sunday and went Best Junior female with Excellent + CK! Toffee has her own page in our Gallery now.
---
July 10, France: Jet has his first titled offspring
Both junior phalene world winners at the World Dog Show in Paris are offspring of DKCH SECH NOCH NORDCH INTCH KBHV09 DKV09 DKKV09 DKKV10 KLBV09 KLBV10 KLBCH Blicci's Energetic!
WJW11 male and Best Junior: Kecil Winner Takes It All - congratulations to breeder Lise Verburg and owner Marianne Hansen, and handler Lars Kalkerup.

WJW11 female: Noble Nadirs Penny - congratulations to breeders and owners Birgitta and Amanda Bernhed.
Well done, all of you! The phalenes were judged by Ms. Annukka Paloheimo from Finland.
---
June 17, Denmark/Norway:
Lotte has moved to her new owner

After more than 4 months' waiting time to fulfil the Norvegian import rules, Blicci's Go Lightly has moved to her new owner in Norway. Reidun Aurmo came visiting and brought Lotte back with her by flight. Lotte has already settled well in her new country. We wish Reidun the best of luck with Lotte and look forward to hearing news along the way.
---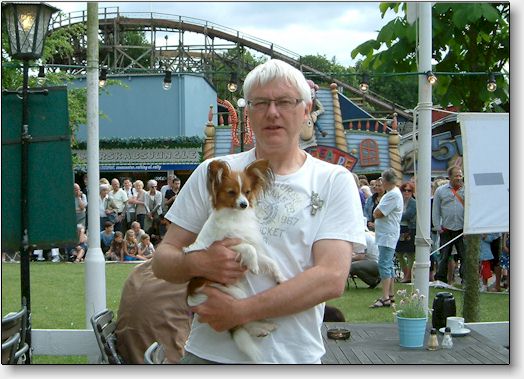 June 2, Denmark: A fun day at Bakken
This show is held in the old amusement park Bakken on Ascension day and is very popular.Panerai Replica Super socializing for the dogs and we always go with our young ones. Blicci's Hexia De Trix went BOB papillon. Afterwards we had a nice lunch with a lot of papillon friends!
---
June 5, Germany: Max wins again!

Back in Germany! Once more CAC, CACIB and BOB in Neum?nster under Joachim Weinberg. Congratulations again!

May 22, The Czech Republic: Max continues his winning ways

Who could resist this handsome fellow? Blicci's Golden Universe travelled with his owner B?rbel Lieblich to the Czech Republic and he took CAC, CACIB, BOB and BIS-5 at the international showin Litomerice. Well done and big congratulations!
---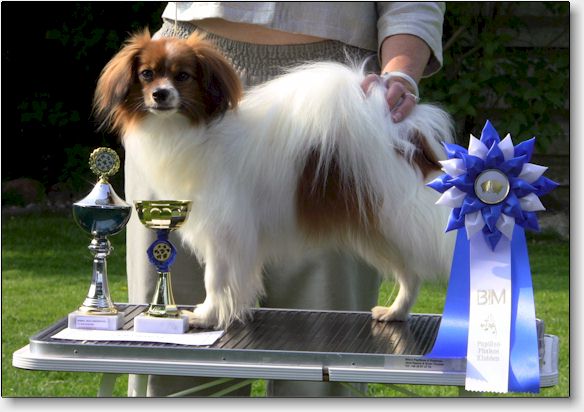 May 21, Denmark: Lotte steps into the Winner Circle
At the Papillon-Phalene Club's speialty show in Ebeltoft, Blicci's Go Lightly returned to the show ring in top condition, and the judge Ms. Linda Reinelt-Gebauer from Germany awarded her Best Phalene Female with CAC. After this, Lotte went BOS to her half brother, Kecil Winner Takes It All. Well done of both!
---
April 23, Germany: A great win for Max

At the international show in Dresden, Blicci's Golden Universe took CACIB and Best of Breed.

Congratulations to his happy owner B?rbel Lieblich and thanks to the judge Ms. Irene Hess.
---
April 19-23, USA: Star shining at 11 years old

At the Papillon Club of America's National show in Chattanooga, Tenessee, CH MACH Blicci's Sandra Dee OF came by together with some of her glorious offspring and shined as bright as ever. Star won BOS at the Veteran sweepstakes and won first place in the Veteran 10+ years class. Well done and congratulations to her owner Andrea Samuels and thanks to the judges Joanne Paulk (regular classes) and Michael Garofalo (sweepstakes).

Photo: Tammie Wilkerson
---
April 3, Denmark: CAC's both in papillons and phalenes

The Club specialty show in Lund, Horsens became another nice day for Blicci: Amy took her 3rd Danish CAC and Blicci's Framboise aka Rikke took her 2nd CAC. Thanks to the judge Mr. Kim Bay from Denmark!

Photo: Helle Larsen
---
April 1- 3, USA: The biggest win for Andrea & Sparkle

NAC CH MACH4 StarStruck Sparkle Plenty OF, the fantastic daughter of Star, sired by CH InVolo Thousands Cheered, made the impossible possible: With her breeder, owner and handler Andrea Samuels she took the most prestigious agility title of all in the US: National Agility Champion. This fabulous win took place at the 2011 AKC National Agility Championship in Lexington, Virginia. Sparkle came in first out of 140+ dogs and Andrea's other dog Chase came in 5th!

Congratulations, Andrea for achieving your dream after all your work and efforts!

Watch and enjoy Sparkle's runs on YouTube here.




Photo:

Barbara Scanlon
---
March 20, Sweden: Amy did it again

The next day we travelled to Malm?, Sweden to the international show, and Amy continued her winning ways, going 2nd best female in a large phalene entry and taking her first Swedish CAC. Thanks to judge Ms. Tatjana Urek from Slovenia. It was fun to see a couple of other Jet offspring in the ring. Way to go, little guys!

Photo: Katrine Larsen
---
---
February 12, Denmark: Amy takes her first Danish CAC

Kecil Wait Your Chance needed not wait long to take her first Danish CAC: She took it at her first attempt, at the international Danish Kennel Club show in Fredericia. Thanks to judge Mr. Gunnar Nymann.

Amy is a daughter of Jet and litter sister to Liller pictured below. And a third litter mate is on his way to the winner circle too. What a dynamite litter to follow!
---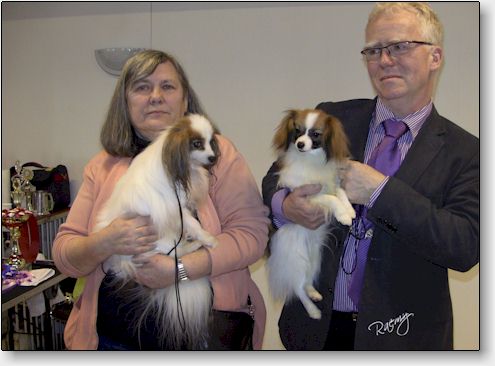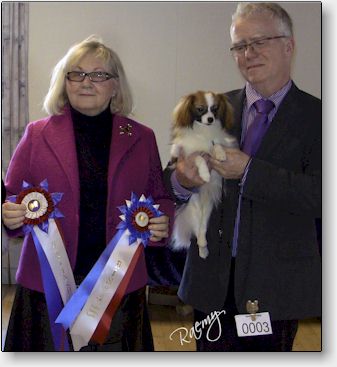 January 29, Denmark: The year starts up with a bang for Jet's son Liller!
Kecil Winner Takes It All - an outstanding son of DKCH SECH NOCH NORDCH INTCH KBHV09 DKV09 DKKV09 DKKV10 KLBV09 KLBV10 KLBCH Blicci's Energetic and Kecil Kecil Vanity Fair lived up to his name by taking Best male, CAC and Best of Breed at his first official show in Denmark. And went on to be Best In Show-2! Thanks to judge Ms. Kerstin Nilsson. Liller is bred by Lise Verburg, owned by Marianne Hansen and shown by Lars Kalkerup. To the left he is pictured with his great-grandfather, MultiCh Kecil Jammin' The Blues. Congrats to all!
---